It is important for kids and parents to find a good nickname for their aunts that everyone can enjoy. Since there are so many options to choose from I thought it would be a good idea to explore some of the best nickname ideas and names to call your aunt!
Aunts deserve to have a totally cute and cool nickname because they are supposed to be a fun person for their nieces and nephews. While all countries and cultures have interesting other names for aunts, it's easy to turn anyone's name into a cute aunt nickname that the whole family can enjoy.
Whether you want a super cute name or something a little more serious there is a perfect nickname out there for your favorite aunt. Let's dive into some classic, cute, and crazy aunt nicknames along with other names for aunt from other countries and even tricks to turn any name into something fun!
Classic aunt names in the United States
If you aren't sure what kind of a name you want or you just want to keep things a little more traditional then you would do well to check out a classic aunt name. Rather than using your aunt's name to come up with a nickname, these nicknames are fun ways to say aunt and many a niece and nephew have used these over the years.
Auntie
Aunty
Aunt X (first letter of the first name)
Tee-tee or Ti-Ti
Sissy
Annie
Aunna
Aunnie
Nanny
Nayney
Ann
Nanan
Nan
Tauntee
Of course, you might not want to go with something you've seen or heard an aunt called a million times. If you have ancestry from another country or region of the world – how about checking out some foreign aunt nicknames?
Aunt nicknames from other countries around the world
Depending on your family history and background you might have some fun options from your country of origin. Many of these names will likely be passed down anyway by grandparents but it is still fun to see what other people from around the world call their aunts.
Instead of using the aunt's name for the nickname, these aunt nicknames are based on the word aunt in other languages.
Even if you aren't from one of these places there is no rule that says you can't use it anyway!
Tia (Spanish/Portuguese)
Tante (German/Danish/Dutch/French/Norwegian)
θεíα or Theia (Greek – pronounced 'Thee-ya')
Tetka (Bosnian/Russian/Serbian)
Titka (Ukrainian)
Zia (Italian)
Aintín (Irish)
Néni (Hungarian)
Tädi (Estonian)
Moster (Swedish)
Teta (Lithuanian)
Teyze (Turkish)
If you are able to use any of these, you'll have a fun and interesting way to keep a link to your family!
Cute or crazy aunt names
Those of you that want something a little more fun or cutesy should check out one of these cute aunt names. You can have a lot more fun and get creative when finding a cuter aunt nickname because you are really just trying to find a kiddy version of the name or using a funny word that they already know and like.
One of the best parts of this kind of name is that it will usually be easier for your niece or nephew to say so you can get them started talking to you much earlier!
Just be careful because you never know what might stick once you start trying to get a baby to call you something!
Here are some cute aunt nicknames that you can use in place of the aunt's name:
Nini
Bubby
Cookie
Aunt Pooh (or another favorite character)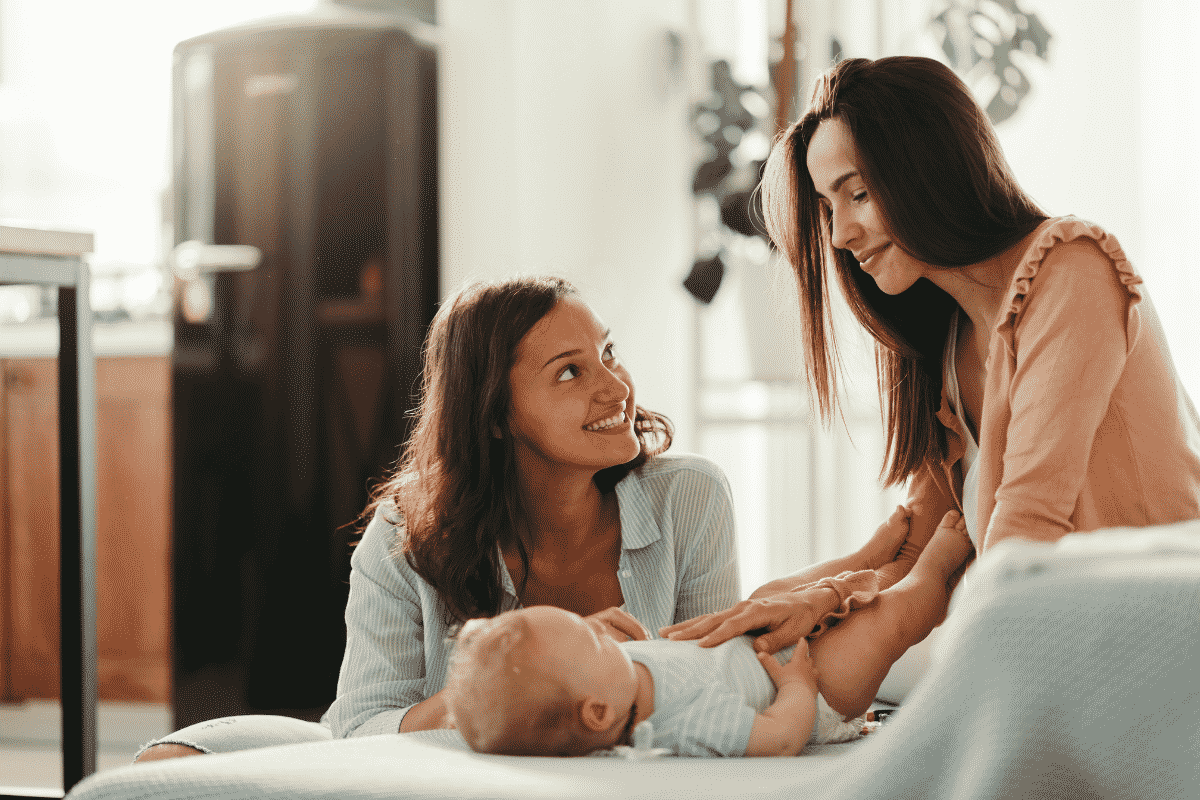 You can also turn any name into a cute nickname to make it easier for the niece or nephew to say the name by taking the first or last part of the name and repeating it. If we are using the name 'Laura' then we would get:
Aunt Lala
Aunt Rah
Aunt Ora
And now, here are some more examples of specific names!
Fun aunt names
One of the best things about finding a nickname for your aunt is that there really are no rules!
You can decide on a name to call your aunt based on what she looks like, her personality, where she is from – literally anything.
As long as she enjoys the name and it's appropriate for children, almost anything can be a fun aunt name for your niece and nephews to use.
Here are a few examples of fun aunt nicknames:
Big Love
Wonder Woman
Dazzler
Buffy
Foxy
Big Time
Real Deal
Bite-size
Boogie
Cuddle Bug
Funfetti
Gummy Bear
Lady Bug
Sassy
Sporty
Tinkerbell
Tootsie
Of course, these names will totally depend on the aunt herself – I can definitely see one aunt hating one and loving another. Be careful!
Contact names for aunts to use in your smartphone
If your aunt has a cool nickname then chances are the whole family will start using them. For older children and parents, that likely means that you'll want to use that fun nickname as a contact name for the aunt as well.
While you are free to use any name you'd like for your aunt nickname, you might want to consider a couple of things when it comes to putting that name into your phone contacts:
Other people might see the name pop up on your phone so anything inappropriate could get you into trouble!
Someone looking for emergency contacts in your phone will be more likely to call something like 'Aunt TeeTee' than 'Lady Bug'
With that in mind, it might be a good idea to keep it simple and enter your aunt's real name as her contact or at least add in her real name or the word 'aunt' beforehand in case of emergencies!
To help keep it fun, consider using a fun or silly photo of your aunt to add to the contact – that way you'll see her funny face every time you talk!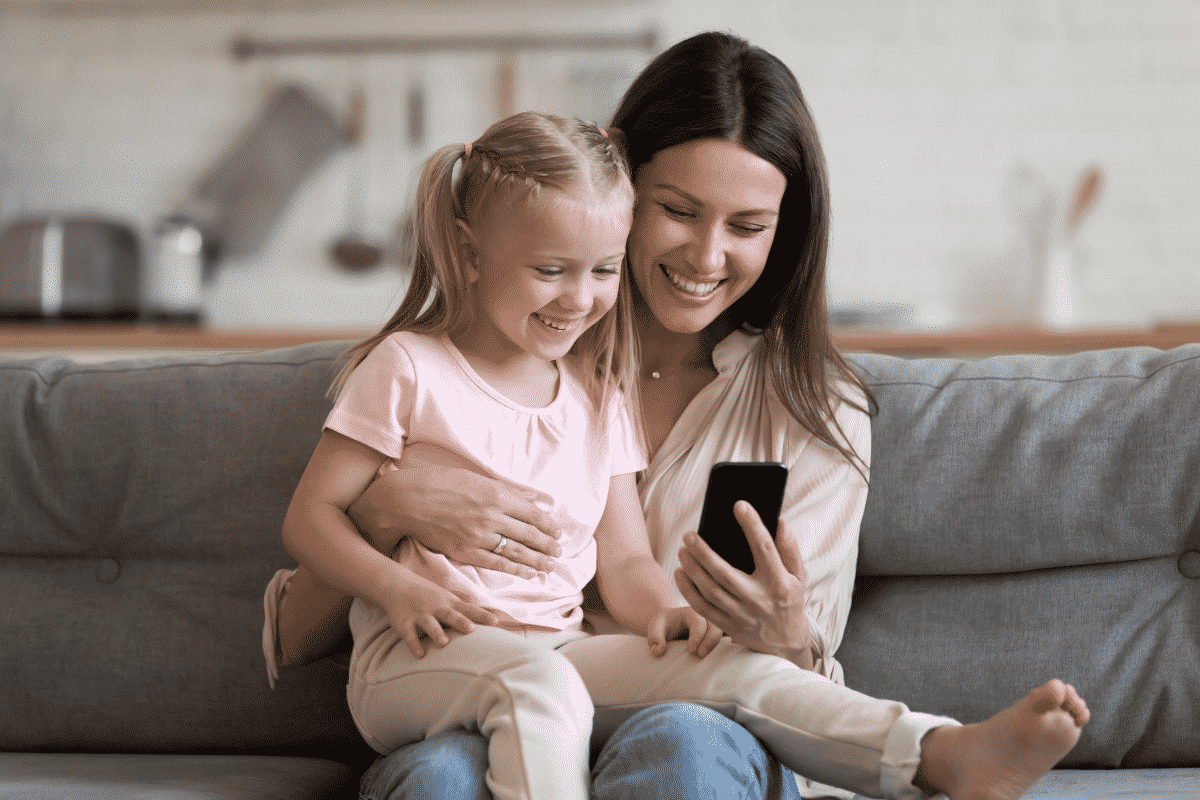 How to choose the best aunt name
Even though I've given you LOTS of examples to get you started, I should point out again that there is really no wrong name to call an aunt. The most important thing is that everyone enjoys the name and has fun with it.
With that in mind, here are a couple of considerations to keep in mind:
Be sure the aunt is okay with it – It's highly unlikely that young children will absolutely love a name that their aunt actually finds embarrassing or silly. There is no point picking a random name for your aunt only to have them try to awkwardly use it or avoid it altogether because it makes them uncomfortable. Don't be afraid to veto!
Make sure it's age-appropriate – While a 20-something aunt might love the nickname 'Tinkerbell' or 'Cuddle Bug' an older aunt in her 50s might not enjoy it so much.
Consider the aunt's style – A sweet little old aunt that enjoys knitting on the weekends will probably want a different name than the aunt that frequently attends motorcycle rallies. Be sure that the aunt nickname jives with their personal style!
Don't use the same name for more than one aunt – While it's common to name children after older family members from other generations, nicknames can somehow be a bit more personal. In fact, it would be downright horrible if two different aunts somehow ended up with the same nickname! Be sure to coordinate this ahead of time so there isn't a fight!
Consider something gender-neutral – It's important to consider your aunt's feelings when it comes to gender-specific names. Always ask first!
Hopefully, you've found a little inspiration for giving your aunt a nickname or choosing one for yourself! Obviously, these nicknames are only limited by creativity and really anything can make a great name. In many cases, your niece or nephew will randomly call you something one day and it will stick. It could be a variation of your name or something else altogether.
Whatever happens, it will be a cute pet name for you to enjoy! Have fun being an aunt!
By the way, I've also created a resource on finding the best uncle nicknames that you can check out right here. After all, a cool aunt nickname deserves an awesome uncle name too!
Aunt nicknames for your name
I've talked a lot about some super cute and fun aunt names but it's definitely possible that you are interested in something more personal. If you are looking for a cute and fun nickname based on your first name, you are in the right place.
To turn your name into a cute aunt nickname, you can simply use a few tricks to shorten your name and make it more fun for a young child to say. The great thing about using these is that it will also help your nieces and nephews learn your real name at the same time and not just something made up!
Here is the list of aunt nicknames by first name:
Aunt nicknames for Jessica
Aunt nicknames for Jennifer
J
JJ
JiJi (pronounced Jee Jee)
Jen
Jenny
Fer (pronounced fur)
Enny
Aunt nicknames for Amanda
A
Manda
ManMan
DaDa (pronounced Dah-dah)
Mandy
MaMa (pronounced Mah-mah)
Ammy
Aunt nicknames for Ashley
A
Ash
LiLi (pronounced Lee-lee)
Lee
Shlee
Ashy
Aunt nicknames for Sarah
S
SaSa (pronounced Sah-sah)
RaRa (pronounced Rah-rah)
SaySay
Rah
Sadee
Aunt nicknames for Stephanie
S
Stephy
NiNi (pronounced Nee-nee)
FiFi
Fanny
Finny
Annie
Effie
Aunt nicknames for Melissa
M
MeMe (pronounced Mee-Mee)
Lissa
Lissy
Mel
Melly
Missy
Missa
Mizzy
Aunt nicknames for Nicole
N
NiNi (pronounced Nee-nee)
Nico
Nicky
KiKi
Colie
Nix
Nixy
Nizzy
Nickle
Coco
Aunt nicknames for Elizabeth
E
Elle
Elly
Beth
Bethy
Liz
Lizzy
Betty
Bette
Beth
Bethy
Lizbeth
Ellybeth
Aunt nicknames for Heather
H
HiHi (pronounced Hee-hee)
Hezzie
Haddie
Heath
Thea
Heffy
Heath bar
Heth
Aunt nicknames for Tiffany
T
TiTi (pronounced Tee-tee)
NiNi
Tiff
Tiffy
Taffy
Annie
Fanny
Tizzy
Fizzy
Aunt nicknames for Michelle
M
MiMi (pronounced Mee-mee)
Elle
Ellie
Chelle
Chello
Michy
Shelly
Mitch
Mizzy
Mini
Melly
Micky
Shelby
Aunt nicknames for Amber
A
Amby
Bambi
Amms
Amberoo
Bear
Bear-bear
Burr
Burr-burr
Berry
Jams
Aunt nicknames for Megan
M
Meh-meh
MiMi (pronounced Mee-mee)
Meg
Megs
Megsy
Meggy
Gan-gan
Ganny
Mezzy
Aunt nicknames for Amy
A
Amms
Ammy
Azzy
Amur (pronounced a-murr)
Emmy
MiMi (pronounced Mee-mee)
Amazing
Aunt nicknames for Rachel
R
RiRi (pronounced Ree-ree)
Rach (pronounced Ray-ch)
Ray
Ray-Ray
Shell
Shelly
Chi-Chi
Razzy
Rizzy
Aunt nicknames for Kimberly
K
KK
Kim
Kimmy
Kimby
Kimber
Berly
Kizzy
Kimba
Kimbo
Kimmer
Lee
Aunt nicknames for Christina
C
CC
Chris
Tina
Chrissy
Christy
Chrizzy
Rista
Aunt nicknames for Lauren
L
LiLi (pronounced Lee-lee)
Laura
Ren
Lulu
Lolo
LaLa
Renny
Lozza
Lazzy
Lozzy
Aunt nicknames for Crystal
C
CC
Chris
Chrissy
Tally
Kristy
Chrizzy
Rizzy
Aunt nicknames for Hannah
H
HayHay
Anna
Hanny
NahNah
Aunt nicknames for Brittany
B
BB
Brit
Brie
BrieBrie
Brit Brat
Tanny
Brinney
TeeTee
Nany
Aunt nicknames for Madison
M
Emmy
Maddie
M&M
Madipoo
Mad dog
Mazzy
Addy
Aunt nicknames for Samantha
S
Sam
Sammy
Mandy
Mantha
Sama
Say
SaySay
Sameroni
Aunt nicknames for Haley
H
Hay
HayHay
Lee
LeeLee
Hazy
Haybear
Haisley
Aunt nicknames for Emily
E
Emmy
Mimi
Milly
Emms
Emzy
Aunt nicknames for Taylor
T
TT
Tay
TayTay
Lori
Taytor tot
Tilly
T-bug
Aunt nicknames for Sarah
S
Sasa
Sari
Sar Bear
Sazzy
Sassy
Sazzy
Rah
RahRah
Aunt nicknames for Anna
A
Annie
Anna Banana
Anner
Anners