Cloth diapering can seem like a mysterious, impossible process that only celebrities and hippies can manage. There are so many types of diapers and different washing routines; how could someone possibly choose? And exactly how much poop do you touch?
Cloth diapers have come a long way in recent years and are nearly indistinguishable from the plain rags of old – although those are still available as well. Despite the potentially overwhelming styles, accessories, cleaners, and equipment options, many parents find that they prefer cloth diapering because it is more economical (and eco-friendly).
Read on to demystify cloth diapering and to discover whether it might be a good fit for your family.
Should you use cloth diapers?
Modern cloth diapering is a much more pleasant experience than it was in the past because today's diapers are designed for ease-of-use for parents and are very different from the diapers used in the generations before us.
The different style of modern cloth diapers all have absorbent inner layers and water-proof outer layers in common, and come in different sizes and fastenings to suit your preference. 
Most people are successful with a simple wash routine that does not require pre-treatment or soaking or anything else other than tossing the used diapers in the washing machine and then hanging them to dry. Oftentimes the hardest part of cloth diapering is not the use of the diapers or even washing; it is deciding how you will store the used diapers before washing them.

Cloth diaper benefits
If you've never considered cloth diapering before, it may be hard to wrap your mind around the benefits of intentionally keeping dirty diapers around.
Families who have chosen to cloth diaper often cite at least one of the following reasons for their decision:
More economical overall – In your child's first year, you could save $200 over using disposable diapers.
Low environmental impact – Because they are reusable, cloth diapers reduce waste and help to minimize your environmental footprint.
One-time purchase – Since diapers are purchased once and washed after each use, parents are free from the supply chain (at least the diaper-supply chain) and don't have to worry about running out.
The start-up costs will be discussed in further detail below, but depending on the particular diaper you choose, families can realize savings as early as 4 to 5 months of diapering, and that is with only one child. Cloth diapers can be stored and then brought out again for subsequent children in the family.
Cloth diapers have a very long shelf life and can be recycled at their end-of-useful life. Disposable diapers, on the other hand, will remain in landfills for about 500 years and comprise 4-10% of the U.S.' waste. Between manufacture and washing, cloth diapers use 48,000 to 126,000 liters of water per child while a disposable uses 35,000 to 75,000 liters. If cloth diapers are reused among siblings, purchased second-hand, and passed on to another family after use, their water impact will also make them the environmental winner.
Finally, by having a reusable diaper supply, families will never have to worry about running out of diapers if they are unable to reach a retailer.
Cloth diaper drawbacks
Despite their advantages, cloth diapering is definitely not for everyone.
Families who initially choose to cloth diaper (or go back to disposables after a test period), report the following the concerns:
Washing machine use – Between diaper stock and not wanting dirty diapers to sit for too long, most people wash their cloth diapers every 1-3 days. If you don't have easy access to a washer or don't have the time to devote to washing laundry, cloth diapering may not be the right choice.
More up-front expenses – Despite being more economical over several months or years, cloth diapers requires a much higher initial investment than disposable diapers.
Doubling down  – Many daycares, church nurseries, and babysitters do not support cloth diapering (and the ones that do may not be familiar with your system) so families would need to keep disposables around for these situations. If your child will be spending a large chunk of time outside of your care, cloth diapering may not be the way to go.
Time – Cloth diapering is one more thing for new parents to learn and adapt to when a baby is born – and one that can easily be cut out!
Before making the decision to cloth diaper, you should weigh the benefits and advantages against your family's schedule, priorities, and needs.
Reusable diapers vs. disposable diapers
| | Cloth diapers | Cloth diapers purchased second-hand | Disposable diapers |
| --- | --- | --- | --- |
| Cost per diaper | $29.83 | $19.39 | $0.32 |
| Cost for diapering over 12 months | $584 | $423 | $800 |
| Potential savings for 1 child | $216 | $377 | n/a |
| Potential savings for 2 children | $890 | $1,051 | n/a |
Take a look at the potential cost difference between using cloth and disposable diapers.
Costs will vary depending on the number and specific diapers purchased. The longer a child is in diapers and the more children the family has, the more savings a family can realize by using reusable cloth diapers.
Types of cloth diapers
The best and worst part of cloth diapering is that the options are nearly endless.
This variety is great because it allows families to experiment and tinker with different diapers and routines to best fit their child's anatomy and the family's needs, but it can also be daunting to choose which method to try.
Remember, babies have different body types and families have different needs. Sometimes it is better to use less absorbent all-in-ones if it is the only type your babysitter is willing to use or because stuffing pockets just seems like one step too many to make the process bearable.
All-in-one diapers
All-in-ones (AIOs) are the most similar to a disposable diaper.
They are one-piece consisting of a waterproof outside PUL (polyurethane laminate) layer and absorbent fabric panels inside. The diapers fasten on to your baby using either snaps or hook-and-loop closure (brand name Velcro). Many are designed to fit babies from about 12 pounds all the way up to potty training and are trim in comparison to pocket diapers.
AIOs can take longer to dry than other cloth diapers because they have several layers.
BumGenius and Thirsties are two popular all-in-one brands.
Thirsties One Size All in One Cloth Diaper, Snap Closure, Happy Camper
Convenient, trim fitting, and absorbent

Goes on in one simple step - cloth diapering doesnt get any easier

One size diaper provides a customizable fit for most babies from birth to potty

4 total layers of absorbent microfiber terry, a microfleece liner and a reliable waterproof exterior

Stay-dry microfleece liner provides wetness protection
Prices pulled from the Amazon Product Advertising API on:
Product prices and availability are accurate as of the date/time indicated and are subject to change. Any price and availability information displayed on [relevant Amazon Site(s), as applicable] at the time of purchase will apply to the purchase of this product.
Pocket diapers
Pocket diapers have a devoted fan base because they are so versatile. They usually look exactly like an all-in-one diaper on the outside, so much so that it is easy to buy one when you mean to purchase the other online.
Instead of the built-in panels that all-in-ones have, pocket diapers are set up to be stuffed with totally removal absorbent pads or liners. Sometimes you insert the pad in between two thin layers of the diapers like sticking your hand in a pocket. Other times the pads snap onto the diaper (some have both features for extra security).
Parents can load up the pocket diapers with an array of inserts to increase absorbency. Extra absorbent nighttime inserts called soakers help the diapers make it through an entire night's sleep.
Check out these MamaKoala pocket diapers to get an idea of how they work. You will notice that they are much less expensive than all-in-one diapers, but they do require additional inserts.
Mama Koala One Size Baby Washable Reusable Pocket Cloth Diapers, 6 Pack with 6 One Size Microfiber Inserts (Jagger)
NO LEAKS - Waterproof and breathable TPU outer, super soft and stay dry suede cloth inner protects baby from moisture

GROWS WITH YOUR CHILD - One size (8-35lbs) with 3x3 rise snaps to customize for the perfect fit

SAVE MONEY AND REDUCE WASTE - one size cloth diapers and inserts are simple, economical and eco-friendly

ULTRA ABSORBENT - Your order includes 6 one-size 3-layer microfiber inserts. They are light weight yet highly absorbent

MANUFACTURER PROMISE - Quality guarantee and 5-star customer service. If you are not 100% completely satisfied, give us a call or email us and well make it right. All returned items in good condition will be donat
Prices pulled from the Amazon Product Advertising API on:
Product prices and availability are accurate as of the date/time indicated and are subject to change. Any price and availability information displayed on [relevant Amazon Site(s), as applicable] at the time of purchase will apply to the purchase of this product.
Hybrid diapers
Hybrid diapers are also called all-in-two (AI2s) and are made to add inserts like pockets diapers or disposable inserts that can be thrown away. The diaper shell can be worn for a few changes.
Many cloth diaper parents like the AI2s for traveling because the disposable inserts cut down on both the smell and bulk of traveling with cloth diapers.
GroVia makes popular AI2 diapers.
GroVia Reusable Hybrid Baby Cloth Diaper Snap Shell (Arctic)
ADJUSTABLE FITTED COVER: The reusable Snap Cloth Diaper Shell is adjustable to fit babies from 8 to 30 lbs. This diaper closure is easy to master, very similar to the traditional disposable diaper, and truly loved by parents!

EASILY ADD ABSORBENCY: There are so many options of absorbency when using the hybrid cloth diapering system.

MACHINE WASHABLE: Remove as much solid matter as possible from the Shell. Place soiled Shells in a dry diaper pail – no soaking necessary. Wash every 2 days on warm with detergent.

SAFELY MADE: Healthier for baby, less diaper rash while making less waste in our landfills, save hundreds of dollars each year, and no dioxi
Prices pulled from the Amazon Product Advertising API on:
Product prices and availability are accurate as of the date/time indicated and are subject to change. Any price and availability information displayed on [relevant Amazon Site(s), as applicable] at the time of purchase will apply to the purchase of this product.
Flats and prefolds
Flats and prefolds are the types of diapers that were used for centuries before disposable diapers were invented, and they are still around for good reason: they are inexpensive and they work.
The absorbent flat pieces are wrapped and secured around your baby and then covered with a waterproof outer such as either rubber pants or diaper covers to prevent leaking.
Flat diapers make excellent burp rags and cleaning cloths and will get lots of use long after your little one is done with them.
OsoCozy – Unbleached Birdseye Flat Diapers (Dozen) – 27 x 30.5 – One-Layer Flat, Cloth Baby Nappies Made of Soft, Durable 100% Birdseye Cotton
A QUALITY CLASSIC - There are many reasons why cloth diapers and classic cotton nappies have been used for centuries, and are still used around the world. Soft, economical, environmental - try them and believe!

SOFT UNBLEACHED DIAPERS - OsoCozy Unbleached Birdseye Flat Diapers are made of 100% birdseye cotton, bringing superior absorption, softness and durability. Each measures 27" x 30.5". One order includes 12 baby diapers.

EASY TO CLEAN - Skip the difficulty of washing quilted cloth diaper prefolds, with layers and layers of soiling to clean. Our flat, single-layer nappies are easy to clean and dry quickly.

COST-SAVING - Long-lasting OsoCozy Unbleached Birdseye Flat Diapers save you time and lots of money you'd be spending on replacements, or disposable diapers.

MANY OTHER USES - Use as burp cloths, changing pads, bibs, washcloths, and even around the house as optical cleaning cloths, CD or record cleaning cloths, or for shoe shini
Prices pulled from the Amazon Product Advertising API on:
Product prices and availability are accurate as of the date/time indicated and are subject to change. Any price and availability information displayed on [relevant Amazon Site(s), as applicable] at the time of purchase will apply to the purchase of this product.
Fitted
Fitted diapers also require a waterproof cover. The absorbent cloth part looks like a disposable diaper that fits snugly around the baby and a diaper cover tops it to prevent leaking.
Ozycozy is popular for fitted diapers.
Prices pulled from the Amazon Product Advertising API on:
Product prices and availability are accurate as of the date/time indicated and are subject to change. Any price and availability information displayed on [relevant Amazon Site(s), as applicable] at the time of purchase will apply to the purchase of this product.
What type of cloth diaper is best?
The best type of cloth diaper is the one that works for you and your family, but many people prefer all-in-one diapers for ease of use and the existing familiarity with disposable diapers.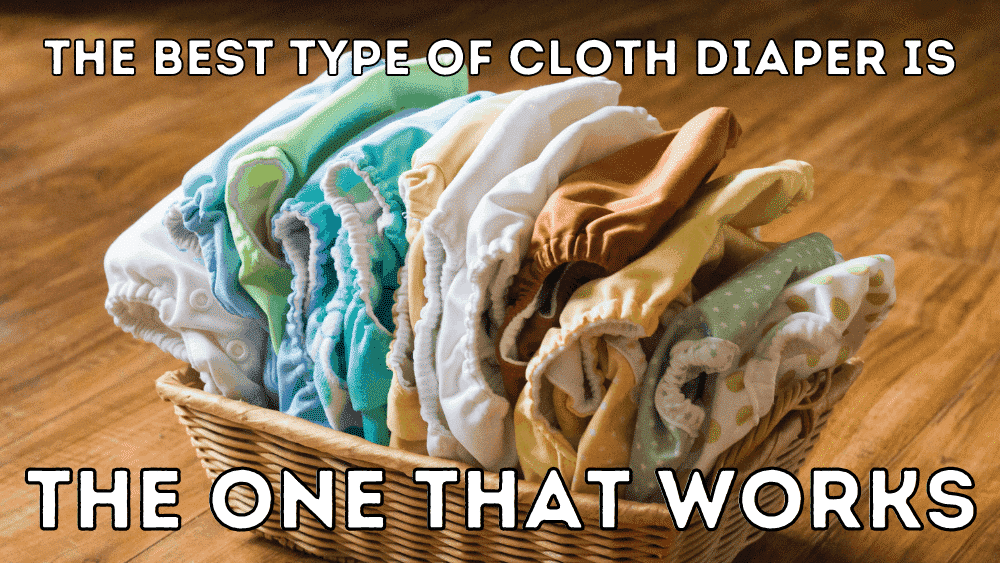 Don't overlook the importance of making your cloth diapering system accessible and approachable to those who regularly take care of your baby, whether paid professionals or a grandparent. Cloth diapering can be one of those frustrating parenting choices where you need the buy-in of others to be the most successful.
If the other parent is reluctant to try cloth diapering, AIOs can be a gateway to the world of cloth diapering. AIOs are all one piece, so nobody has to stuff pockets or unstuff poopy pockets. Your childcare provider can simply roll up the used diaper and store it in the wet bag for you to take home and wash, and there are no pins or fasteners for them to finagle.
When choosing AIOs, decide whether you want to get a one-size variety or a more size-specific style. One-size AIOs accommodate growing babies with one diaper with a series of snaps that allow for an increase of both waist size and overall height. On smaller, younger babies, these diapers will be a bit bulkier because the excess fabric is snapped up to make the diaper fit.
AIOs require the highest initial investment per diaper, and it can be a bit shocking to pay $20-30 for one diaper. They do last through many months of continuous use, and one-size diapers should prevent the need for additional diapers in other sizes.
When starting your AIO stash, consider the following brands:
BumGenius Original: These are classic, one-size AIOs with microfiber inserts. If you buy in bulk, you can buy them new for around $17 per diaper. BumGenius also makes an organic line and toddler-sized cloth diapers.
GroVia O.N.E.: These bring both form and function to the table. GroVia O.N.E diapers include enough absorbency for even overnight use and have both snaps and hook and loop closures. The cute patterns will stir any heart and they are about $23 new.
Thirsties Stay-Dry AIO: Thirsties stay-dry natural AIOs retail for $28 and have a special wicking layer that helps keep your baby feeling dry.
Modern cloth diapers
Polyurethane laminate (PUL) differentiates modern cloth diapers from the flats and prefolds of the past.
Whether diapers come in one or two pieces, they now have an outer layer that is waterproof so that you do not have to worry about your baby leaving a puddle in their wake.
Organic cloth diapers
Not all cloth diapers are organic. Non-organic cotton is grown with pesticides and fertilizer and is processed with chemical bleach.
Parents hoping to avoid chemical exposure can choose cloth diapers made with organic cotton, although they will be a bit more expensive.
How to get started with cloth diapers
Use this checklist to conquer the hardest part of cloth diapering: getting started.
Research the different types of cloth diapers and choose which one(s) you want to use. Some families buy a couple of each type and use them for a week or two before investing in a full inventory.
If you commit to a style in advance, you can take more time to find them on sale or second-hand.
Decide on your storage method. Make sure everyone in the family is on board so that diapers are not accidentally thrown away or left someplace where they will be overlooked on laundry day.
On your baby registry, indicate that you plan to cloth diaper as a gentle way to let people know that you would rather not be gifted disposable diapers. Don't forget to add some cloth diapers and accessories to the registry.
Pre-wash your new cloth diapers several times to help them reach maximum absorbency.
Find a place to easily store a clothes drying rack so that you can air dry the diapers – the heat of the dryer will damage the PUL coating and cause the diapers to leak.
How much do cloth diapers cost and where do I get them?
Cloth diaper prices vary based on the style of diaper, where it is made, and whether or not you have chosen to go all out and get the organic type.
All-in-ones and all-in-2s often cost $20-$30 each, depending on brand. Pockets are usually $10-$20, and require additional inserts. Diaper covers cost around $10 while the flats and prefolds should only be a few dollars each.
When you visit a baby store like BuyBuyBaby, you may see only a handful of cloth diapers and think that they are all that can be found. Cloth diapers come in an assortment of colors and patterns – think holidays, sports teams, foods, causes, animals, and movies. Some diapers are more expensive because there is a bit of collectability to the pattern.
Take a look at Green Mountain Diapers for ideas of the many types available.
To find second-hand cloth diapers, check local baby consignment shops, swap meets like Just Between Friends, Facebook cloth diaper groups, Craigslist, and Nextdoor.
How many cloth diapers will I need?
The number of cloth diapers you need depends on how frequently you plan to do laundry.
Most people wash diapers every 1 to 3 days, depending on the size of their diaper stash and their own personal preference, so you'll need 2-4 days worth of diapers (assuming a day for washing and drying). If you figure 8 diapers a day, that means you'll need 16-24 diapers.
As your baby gets older, the number of changes will likely decrease, but remember that cloth diapers are not as absorbent as disposables.
Cloth diapers will stay in working condition for longer if they are air-dried rather than machine dried. All-in-ones take the longest to dry, and this can be accomplished overnight unless you live in an area with high humidity. Speed up the drying by aiming a fan's airflow onto the diapers.
An example routine may be to wash all diapers after you put your baby down for the night and hang them to air-dry overnight.
What size should I buy?
Until your newborn clocks in at 12 pounds, they will need newborn-size cloth diapers. Fortunately, they cost less than the bigger sizes, and you should be able to find them for around $10-15 each.
During the newborn stage, Grovia recommends having a minimum of 36 of the smaller cloth diapers.
Many families choose to use disposable diapers for their newborn as the number of diapers needed to get through the early days (not to mention how difficult it is to clean meconium out of a cloth diaper) is not practical when compared to how long the typical child will wear the newborn size.
After your child hits the 12-pound mark, you have the choice of continuing to purchase sizes based on the baby's weight, or simply buy one-size diapers that can adjust to your growing baby.
Do I need a cloth diaper service?
Diaper services collect used cloth diapers on a set schedule and replace them with clean ones. Some services require that you buy diapers from them or buy only certain types. When you use a diaper service, you may not have your specific diapers returned to you.
Diaper services are popular in areas where homes are less likely to have in-unit washers.
Do I need diaper covers?
Diaper covers are needed for fitted and prefold/flat diapers only.
All-in-ones, all-in-twos, and hybrid diapers all feature a PUL outer layer that is waterproof. A separate cover is not necessary.
How to wash cloth diapers
When you first consider cloth diapers, the washing of those diapers will likely be one of the first concerns that comes to mind.
The idea of washing human waste in the same machine where we wash our clothes can be uncomfortable, but poop from breastfed and formula-fed babies melts away in the wash cycle in a way that can only be described as magic.
To give it a try for yourself, go through the following steps.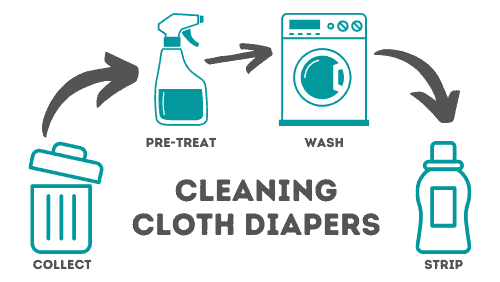 Collecting dirty cloth diaper laundry
Instead of throwing away your baby's dirty diapers, you'll be collecting them.
Smelling dirty diapers every time you walk near the changing area will likely make you question your commitment to reusable diapers, so you'll want to either have several wet bags on hand or invest in a diaper pail.
Wet bags
Wet bags range in sizes from ones that fit one two diapers – these are great for travel or separating out sprayed off poopy diapers – to ones the size of a garment bag that can hold several days' worth of diapers.
No matter what size you get, they are surprisingly good at containing odor, which is incredibly important given how quickly your little one's old pee diapers will start to reek of ammonia.
You can wash the bag the same time you wash diapers, but make sure you have at least one other to rotate in while the other is in the wash.
We recommend this large hanging bag from AlvaBaby because of its size – it holds up to 24 double-stuffed cloth diapers – but we also appreciate that it comes in several colors and has both coordinating and just plain fun variations in other sizes.
ALVABABY 2pcs Cloth Diaper Wet Dry Bags Waterproof
Double Zippered - TWO Zippered compartments for keep wet and dry things separate. Each bag contains a wet section that is sewn and sealed for no wicking or leaking.

Enough Space-30cm x 36cm (approx.:11.5 in x 14 in),Holds approximately 5-7 cloth diapers. Light weight, easy to carry (less than 50 g).

Multi-functional Bags-A truly wonderful bag that allows you to carry your wet and dry items in the same bag. Carry all your items in one bag while keeping your dry items dry and your wet or soiled items separate.
Prices pulled from the Amazon Product Advertising API on:
Product prices and availability are accurate as of the date/time indicated and are subject to change. Any price and availability information displayed on [relevant Amazon Site(s), as applicable] at the time of purchase will apply to the purchase of this product.
Diaper pails
Diaper pails for cloth diapers are typically similar to the ones you'd see for disposable diapers, but they tend to be a bit bigger as cloth diapers can be quite bulky.
There are loads of great diaper pails available, many of which are designed to coordinate with your baby's nursery instead of looking like a trashcan. No matter what you choose aesthetically, you should look for a diaper pail with a removable insert, a lid that seals in the odor, and the option of locking the top once your sweet baby grows into a curious toddler.
We recommend the Dekor Plus Hands-Free Diaper Pail for its unobtrusive design. It fills up at around 15 fully stuffed cloth diapers (much less than the large wet bag), but that's roughly how many diapers should be washed at a time so that doesn't both us. It comes with a roll of plastic bags, but we recommend getting a pair of washable liners and just throwing them in with the rest of the load.
Pre-treatment of soiled diapers
One of the biggest sticking points when deciding to cloth diaper is everyone's least favorite question: "But what do we do about the poop?"
There are two main schools of thought for handling solid waste in diapers: dump it or trash it.
If you are using a completely washable cloth diaper system, you'll be planning to dump the waste in the toilet. You can attach a sprayer hose to rinse off the diaper or dip and swish the soiled diaper in the toilet. Some parents even swear by using a specially designated spatula for plopping the waste into the bowl.
If you're not ready to fully commit to going hands-on with whatever comes out of your little one, many types of cloth diapers have a disposable liner option like this one from Grovia. These are also really good for travel and great to have around on long trips since you just lift the liner out and throw it away like you would a disposable diaper.
Disposable liners
Disposable liners come in compostable and biodegradable varieties. Some even claim to be flushable, but professional plumbers may disagree.
The idea is that disposable liners serve two purposes: they facilitate the easy disposal of solid waste and protect the cloth diaper from diaper rash creams.
Petroleum-based diaper rash creams do not wash out of diapers made out of synthetic fibers, but there are many great rash creams to choose from that are cloth diaper safe.
If you implement disposable liners in your routine, do not forget to plan a storage method for them. You could use the diaper genie method of wrapping each liner in swaths of plastic to contain the smell, but that would also defeat the purpose of reducing your baby's environmental impact.
You definitely need a nearby receptacle for the liners, and given that they will contain straight baby poop, it needs to be one that you are not opening frequently for other uses. A surprisingly good and inexpensive option is a small, metal bathroom step can.
For something with more capacity, get a can with a charcoal filter like the Safety 1st Easy Saver Diaper Pail.
Cleaning cloth diapers in the washing machine
The wash routine for cloth diapers is one part of the process that families find they need to tweak or adjust over time if they notice their current routine no longer works. There is no one right way that you must follow; rather, this process is more about monitoring whether your method is working and adjusting as necessary.
A good place to start will be to wash your diapers on the longest, hottest cycle your diapers can take – make sure you check your manufacturer's instructions as water that is too hot can damage the PUL coating. Try adding the prewash cycle if the diapers still have a bit of a smell after a wash cycle. If your soap is not washing out well, add a second rinse cycle. Never wash soiled cloth diapers with other laundry!
If you notice that the diapers have a barnyard smell after washing or develops one when the child urinates in the diaper, it is time to reevaluate your wash routine. Persistent diaper rash or diapers that do not look visibly clean are other signs to reconsider your wash method.
The most common problems include:
Hard water
Too much soap
Soap that is too weak
Ammonia build-up
If you suspect the problem is that your mild-enough-for-baby's-sensitive-skin detergent isn't cutting it against your little one's diapers, we recommend the Rockin' Green Dirty Diaper detergent. It's formulated to remove the enzymes that are hanging around leaving that nasty smell, plus it'll make your diapers last longer than using regular detergent.
Fluff Love University is a comprehensive resource for trouble-shooting, but many users find that it recommends too much detergent for soft water. After a thorough rinse, you should not see suds in your cloth diaper load.
Stripping or deep cleans of cloth diapers
Although you clean your diapers regularly, there will almost always be a little bit of build up from detergents, balms, and even your baby's pee and poop left behind.
If you notice that the diapers aren't absorbing as well as they used to, don't smell fresh even when they're newly washed, or you plan on selling or passing them on, you should strip (deep clean) them.
To strip your cloth diapers, you can use either a ready-made stripping detergent like GroVia Mighty Bubbles or Rockin' Green Ammonia Bouncer or mix up a home recipe. If you're using a commercial stripper, follow the directions on the packaging; if you're DIYing it, soak the diapers for 30-60 minutes, follow with a bleach soak, and then wash several times in the washing machine.
Tips from a real cloth diapering parent
I've been cloth diapers for a while, and I've learned a couple of things that I don't think are addressed all that often. While it's by no means exhaustive, these are my personal tips and tricks for making cloth diapering work.
Get your fit right
Most cloth diapers (and all the ones I've used) are basically one-size-fits-all once you hit that magical 12-pound mark. It's great for cost savings since you really only need to buy one set of diapers and that will last you through potty training, but it can also be intimidating.
I know my first response after seeing all the little snaps after I opened the package was confusion – I wasn't even overwhelmed yet…that came the first time I tried to diaper my baby!
The first time you cloth diaper your baby can be overwhelming, but having a general idea of how to fit the leg gussets and waist will go a long way. After that, pay attention to the way your baby moves and make adjustments as necessary.
Check out this really helpful video to see exactly how a cloth diaper should fit – it's not the same as a disposable!
Once you have your baby's perfect fit, you'll be able to transfer that snap sequence to all the other diapers of that style.
Just like how disposable diapers have different sizes, you'll need to keep an eye on your little one and size up as needed. When the current sizing is starting to leave red marks or little indentations in your baby's skin, it's time to give them a little more room. Keep in mind that you may only need to adjust one snap at a time to find the right fit.
Add disposable diapers as needed
Just like people who go all-or-nothing with food restrictions are more likely to relapse, so are people more likely to give up on cloth diapers when they don't adapt them to their family's needs. For example, some children are prone to absolutely flooding their diapers at night in a way that cloth diapers just cannot keep up. This can lead to a need to change not only the baby's swaddle or sleep sack, pajamas, and diaper, but also sheets in the middle of the night and will disrupt both the baby's and parents' sleep.
My solution?
Use a disposable overnight. You're still only using seven disposables a week and everyone's happier for it.
Ignore the older generations who tell you it is impossible
Your mother's cloth diaper is not the same one you're using. Even if you choose the same flat diapers, you have access to a variety of no-leak diaper covers, not to mention you never have to worry about sticking your baby with a safety pin!
Remember that our mothers and grandmothers cloth diapered in the time before modern cloth diapers, and sometimes even before washers in their homes. Your experience can be very different from theirs.
Look for used cloth diapers
To lower the cost of cloth diapering, look for used diapers online or at children's resale/consignment shops.
Many people invest in many diapers with the best of intentions but then lose motivation to pursue cloth diapering. From those people you can purchase all the diapers you need for half of the sticker price of new cloth diapers.
Don't disregard newborn cloth diapers
Many people plan to use disposable diapers doing the newborn period and start with cloth when their babies are big enough to fit in standard-sized cloth diapers.
This is absolutely an option, but second-hand newborn cloth diapers can be found heavily discounted, and, depending on your baby's size, can actually fit for the first 6 to 8 weeks.
Don't forget the cloth wipes
Cloth wipes can be tossed in the wash with your diapers, so they do not add to your work, but they can further reduce your environmental footprint and cut costs.
You can purchase cloth wipes online from many of the big cloth diaper brands, or you can make your own used old t-shirts or old, soft towels that you are ready to repurpose.
Don't be afraid to replace the elastics.
Many brands have elastic around the leg holes that relax after extensive washing and use. You can replace the elastic by cutting into the leg hole, ripping out the old elastic, and adding new elastic using a safety pin to thread it through.
Use a needle and thread to secure each end of the new elastic in place and to sew closed the cuts you made to access the elastic. Be sure not to pull the elastic too taut because it can make the diaper too tight on your baby.
Use snaps for older babies
Cloth diapers come with either snap or hook-and-loop closure, and a few brands include both on the same diaper.
Keep in mind your toddler may get the urge to relieve themselves of their diaper, and the hook-and-loop fastening is not terribly challenging for them to manage.
Frequently asked questions about cloth diapering
If you still have a question about cloth diapering, send me an email!
Do you really save money using cloth diapers?
Most people will save money by using cloth diapers, providing they wash at home and cloth diaper for at least a year.
You can realize more savings by using the diapers for multiple children or cloth diapering longer.
Are cloth diapers uncomfortable for babies?
If your cloth diapers leave red marks or indentations on the baby's skin, it can be a sign that they are too tight or situated improperly.
They should not be uncomfortable or impede walking.
Cloth diapers can also be more uncomfortable when it's time to change as they are not as absorbent as disposable diapers. This isn't necessarily a bad thing though as many parents believe that discomfort makes potty training easier when the time comes.
Do cloth diapers leak more than disposables?
Cloth diapers are thought to have fewer blow-outs but more pee-outs.
If your cloth diaper is leaking, consider the following things:
Have you pre-washed your diapers at least five times? Fabrics made with natural plant fibers have oils on them that inhibit absorption.
Check the fit around the tummy, back, and legs. All of these openings are places where urine can escape. Especially after lengthy use, the elastics at the leg openings can relax, providing a looser fit. You can replace the elastics by hand.
Do cloth diapers cause diaper rashes?
Cloth diapers can cause diaper rashes if they are not washed properly. A persistent rash can be an indicator of an ammonia or yeast build-up that will likely be improved by stripping the diaper.