If you're getting ready for your baby's first few weeks, you're probably wondering just how long do babies use newborn diapers? They're so tiny, so not more than five minutes, right? 
On average, babies spend just over one month in newborn diapers, but time varies depending on their weight and growth rate. For most brands, size 1 diapers can be worn at 8 pounds, providing some overlap between sizing.  
Continue reading to learn more about newborn diaper sizing, stocking up on diapers, and when to size up. 
How long do babies use newborn diapers
Your baby's weight is the biggest factor in determining which size of diaper will provide the best fit.
The length of time a baby wears newborn diapers depends primarily on their weight. On average, babies spend just over one month in newborn diapers; however, smaller babies may wear them for several months while larger babies may skip them altogether.
Newborn diapers typically go up to 10 pounds. For most brands, size 1 diapers can be worn at 8 pounds, providing some overlap between sizing.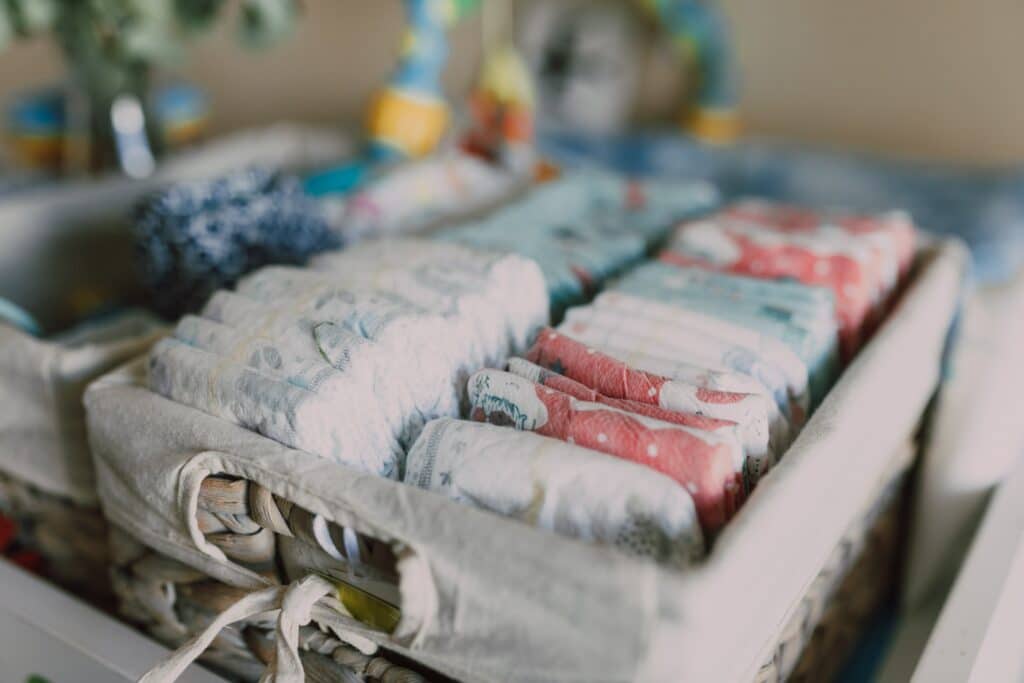 What to expect about your baby's weight and growth
According to the University of Michigan, the average birth weight for babies is around 7.5 pounds, but anywhere between 5.5 and 10 pounds is considered normal, and fewer than 3% of babies weigh more than 10 pounds at birth.
In the first five days, newborns may lose around 8 ounces (or half of a pound), but they typically gain it back in their second week of life. Babies go on to gain about 6 ounces (0.375 pounds) a week until they are six months of age. 
Here is a look at what your baby's growth pattern may look like in the first six weeks based on their birth weight.
Growth rate by birth weight
Birth Weight
(lbs)
Week 1
(lbs)
Week 2
(lbs)
Week 3
(lbs)
Week 4
(lbs)
Week 5
(lbs)
Week 6
(lbs)
5.5
5
5.5
5.9
6.3
6.6
7
6
5.5
6
6.4
6.8
7.1
7.5
6.5
6
6.5
6.9
7.3
7.6
8.5
7
6.5
7
7.4
7.8
8.1
8.5
7.5
7
7.5
7.9
8.3
8.6
9
8
7.5
8
8.4
8.8
9.1
9.5
8.5
8
8.5
8.9
9.3
9.6
10
9
8.5
9
9.4
9.8
10.1
10.5
9.5
9
9.5
9.9
10.3
10.6
11
10
9.5
10
10.4
10.8
11.1
11.5
Aside from their weight, your baby's length and overall proportions may also come into play, especially when your baby is close to sizing up. Since babies vary so much in size, age is never a major consideration. 
Most diaper brands have a two-pound "buffer zone" where babies can fit into both newborn and size 1 diapers. Though size 1 diapers are less likely to go to waste, most newborn diapers have an umbilical notch, which prevents irritation of the umbilical stump.
Some parents find this especially helpful in the first few weeks. 
Newborn diaper weight
Diaper brands base their sizing on a baby's weight. According to Pampers, this provides the most accurate fit for babies. 
Seemingly all newborn diapers fit babies up to 10 pounds; however, there is some variation in size 1.
Here are some popular diaper brands and their weight ranges for newborn and size 1 diaper: 
Weight Ranges for Common Newborn Diapers
Newborn diaper length
Though your baby's length may be a determining factor in what diaper works best for them, no popular diaper brands provide length measurements in their sizing charts. 
If you have a particularly long baby, you may find that some newborn diapers are too short for their torso. Size 1 diapers may provide a better fit around the waist and legs since they are made for bigger babies.
Ultimately, finding the best diaper for your little one may come down to choosing the right brand. All brands have a slightly different fit and some may be better suited for your baby's proportions.
Looking for the best diapers for long babies? Check out this post!
Newborn diaper age
Though the term "newborn" implies a specific age, diaper sizes are not actually based on a baby's age.
Newborn babies vary so much in size, and they continue to grow at their own pace. Though some resources provide correlations between diaper sizes and age, these are ultimately tied to the average weight of babies at that age.
For instance, babies will spend a little over a month in newborn diapers, based on the average weight of a newborn (7.5 pounds).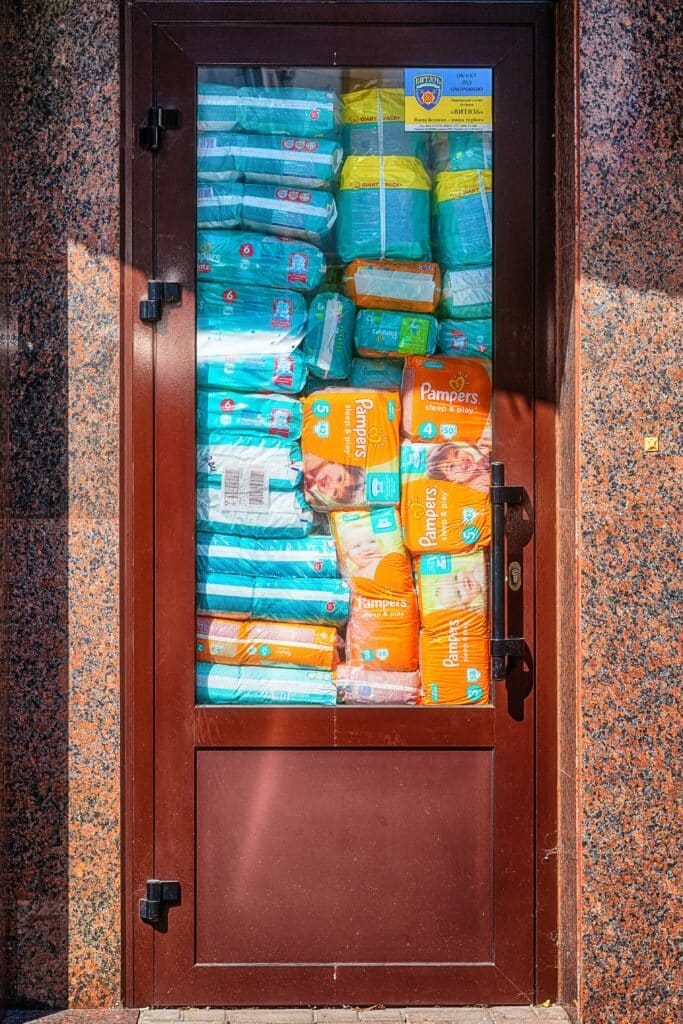 How many diapers does a newborn baby need
Besides tracking your newborn's wet and poopy diapers to help you ensure that they are getting enough milk or formula, tracking can also help you plan your next diaper purchase.
The average 8-pound baby uses about 240 newborn diapers until they move up to a size 1. Of course, that varies based on your baby's birth weight and growth rate.
On their first day, newborns may only need a few diaper changes. By the time they are five days old, they will be going through around nine diapers a day.
Here is a breakdown of the number of diapers you can expect to go through in the first days of their life.
How Many Diapers Newborns Will Go Through
Age
Number of
Wet Diapers
Number of
Poopy Diapers
Total Number
of Diapers
Day 1
1-2
1
2-3
Day 2
2-4
2
4-6
Day 3
2-4
3
5-7
Day 4
4-5
3-4
7-9
Day 5
and onward
6+
3-4
9+
Your baby will continue to use around 9 diapers a day until they are two or three months old when their bladder can hold their pee for longer. 
Can premature babies fit newborn diapers
While most newborns will be able to wear newborn-size diapers, there are some babies who will be too small for the standard size.
Most diaper brands do not specify a minimum weight for their newborn diapers; however, they may be too big for some premature babies. If there is substantial gapping at the waist or legs, or your baby experiences frequent leaks, their diapers may be too large.  
If your baby is too small for newborn sizes, Pampers offers three sizes of preemie diapers that may provide a better fit. They come in sizes -3, -2, and -1.
-3 diapers fit babies as small as one pound. Given that the tiniest babies stay at the hospital for some time, those diapers are a rare find commercially.
All of the major brands, like Huggies, make a preemie diaper that works for up to 6 pounds.
Pampers Preemie Diaper Sizes
How many newborn diapers do you need
The number of newborn diapers you need will depend on your baby's birth weight and subsequent growth. Additionally, since there are about two pounds of overlap between sizes, parents get a little bit of wiggle room to decide when to size up. 
Based on an average of nine diaper changes a day, here is an estimation of how many weeks you can expect your baby to use newborn diapers and how many 140-count boxes of newborn diapers you may go through based on birth weight.
| Birth Weight | Weeks in Newborn Diapers | Boxes (140-count) Newborn Diapers |
| --- | --- | --- |
| 5.5 lbs | 9-14 | 4-6 |
| 6 lbs | 7-13 | 3-6 |
| 6.5 lbs | 6-11 | 3-5 |
| 7 lbs | 5-10 | 2-5 |
| 7.5 lbs | 3-9 | 1-4 |
| 8 lbs | 2-7 | 0-3 |
| 8.5 lbs | 0-6 | 0-3 |
| 9 lbs | 0-5 | 0-2 |
| 9.5 lbs | 0-3 | 0-1 |
| 10 lbs | 0-1 | 0-1 |
Stocking up on newborn diapers
Though it's important to prepare for your little one's arrival, stocking up on newborn diapers can be risky.
Many babies grow out of them very quickly, so they are easy to over-purchase. Many people advise getting no more than one or two boxes of newborn diapers.
Remember, no matter how small your kiddo starts out, they'll always grow into size 1 or 2 diapers. There's no telling whether they'll even need newborn diapers.
Keep in mind that you can order diapers online from retailers like Amazon, Target, and Walmart and qualify for free, fast delivery with diapers. You don't even have to sweat leaving your house.
If you are planning on stocking up, knowing whether you are expecting a small, average, or big baby may help you decide how many newborn diapers to get.
Here are a few ways healthcare providers can estimate your baby's weight: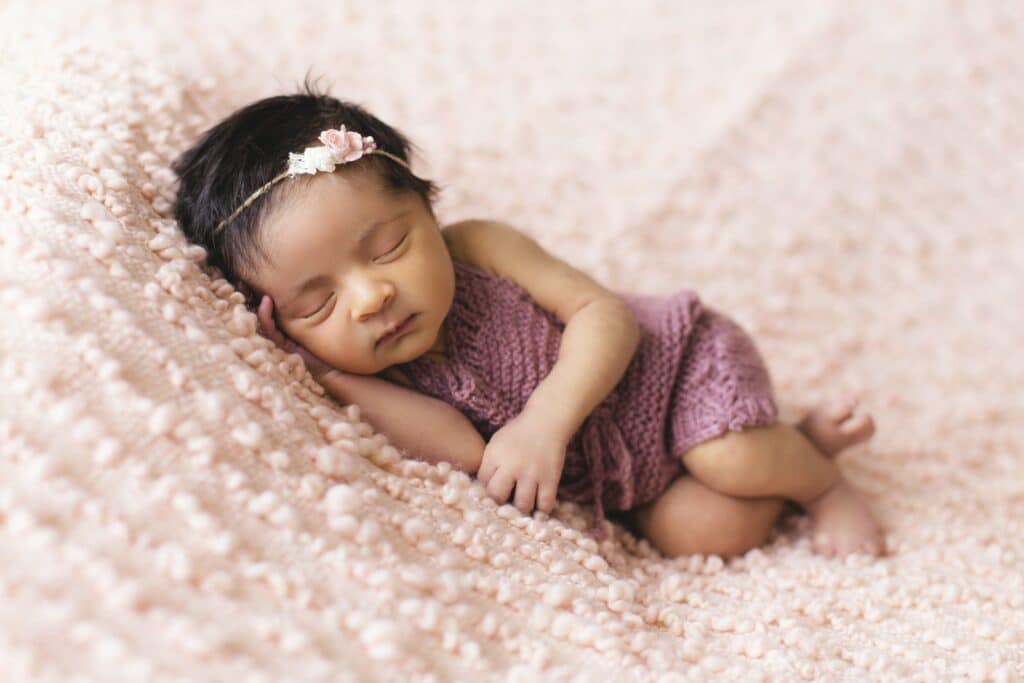 Symphysis-fundal height (SFH)

is a measurement of the mother's abdomen (pubic bone to fundus) which corresponds to fetal growth. 

Ultrasound measurements

taken by a sonographer can roughly predict birth weight.

Gestational age

plays a large role in a baby's birth weight; for instance, a baby born at 37 weeks will likely be smaller than a baby born at 41 weeks. 

Pregnancy complications

may affect a baby's birth weight. For instance, expecting mothers with gestational diabetes often have larger babies. 
If you are purchasing diapers before your baby arrives, it's always good to familiarize yourself with your store's return policy.

Check out my articles on returning diapers to Target and returning diapers to Walmart for more information. 
Can you use size 1 diapers on a newborn
If your baby is on the larger size of average, you may not need newborn diapers at all.
Though sizing depends on the brand, most size 1 diapers have a weight range starting at 8 pounds. This means that some newborn babies can skip newborn diapers entirely. With 2 pounds of overlap between sizes, many parents may pick which size is most convenient.
Some parents choose to use newborn diapers because they offer an umbilical cord notch. This is a cut-out that prevents the diaper from rubbing against your baby's healing umbilical stub.
Though this is a helpful feature, folding your size 1 diaper or manually cutting out a notch can offer the same effect.   
Frequently Asked Questions
Are there newborn cloth diapers?
Many cloth diaper brands make newborn diapers, and the weight range is typically wider than of disposable diapers! So, not only do you get to reuse them, you get a lot more use out of them.
While your newborn might technically fit in a one-size cloth diaper, they are going to look huge on that newborn booty. And good luck getting them in newborn-size clothes. Trust me.
Lil Joey are some of my favorite newborn and one-size all-in-one cloth diapers.
How long are babies considered newborns?
The World Health Organization defines newborns as babies up to 28 days old.
However, who's considered a newborn varies, and in the United States, we typically count babies as newborns until they are 2 or 3 months old.
What's special about newborn diapers?
Besides being the smallest size appropriate for most full-term babies, newborn diapers typically have a cut-out for the belly button.
These are great because it makes it easier to ensure that the diaper doesn't rub the umbilical stump before it falls off. Of course, you can also just fold down the waistband of the diaper if needed.
Conclusion
It's so hard to predict how many of each diaper size you'll need because every baby grows at a different rate! A rough rule of thumb is that the average newborn uses 240 newborn diapers.
If your baby starts smaller or grows slower, you'll need more size 0 diapers. Or, if your baby comes out on the bigger side or packs on the ounces, you won't need as many–maybe even none!