Parents develop a lot of hacks for navigating the world with children. A popular one is putting an infant carrier car seat on high chairs in restaurants. Here's how to do this one and some alternatives for enjoying a night out with your baby.
 Unfortunately, high chairs are not designed to be used this way. Resting the infant carrier on the seat might seem stable, even a small bump by a passing guest or server can send your baby crashing to the ground.  
Let's look ahead at how serious this can be and some better ways to keep an eye on your baby.
Is it safe to put a car seat on high chairs?
It is not safe to put a car seat on high chairs.
Most parent gets in a pickle at some point when dealing with where to put their baby in a restaurant, especially in one that's super busy or small.
If you've ever seen anyone flip over a high chair to hold an infant carrier, it can seem like a genius solution. I've even seen servers automatically do this when seating families with an infant.
While it may seem to be an easy solution, it is dangerous to put a car seat in an upside-down high chair! They are definitely not made to be used upside down and have nothing to secure the car seat.
Keep in mind that the bottom of the high chair, when flipped, sits at an angle because the back of the high chair seat is higher.  When you set the car seat in it, it can slide forward, backward, or even topple to the side.
If someone brushes against it, the baby can easily fall!  Plus, the baby is in the way of beverages and hot food being carried to the table and other tables.  If at all possible, try another method.
Once you've found another solution, always make sure the child is still strapped in the car seat properly if she is above the ground.
When can a baby sit in a high chair without a carrier?
Generally, if your baby is able to sit up fairly well on their own, they can sit in a high chair. This might be as young as 6 months old.
This is around the same time they start solid foods.  Restaurant high chairs are usually those wood ones with only one set of straps, no trays, and no cushions, so it can be harder for a new sitter to remain upright.
Are restaurant high chairs clean?
In most restaurants, it would be surprising if they even wiped high chairs down at the end of the night. I've certainly been given one with crusty food still stuck to it from the previous occupant.
According to one study, a company that makes antimicrobial products says it found restaurant high chairs that were harboring more bacteria than a public toilet seat. Consider bringing your own antibacterial wipes and doing a quick clean.
To find out if the restaurant you are going to meets all the sanitation requirements, you can search through your local health department.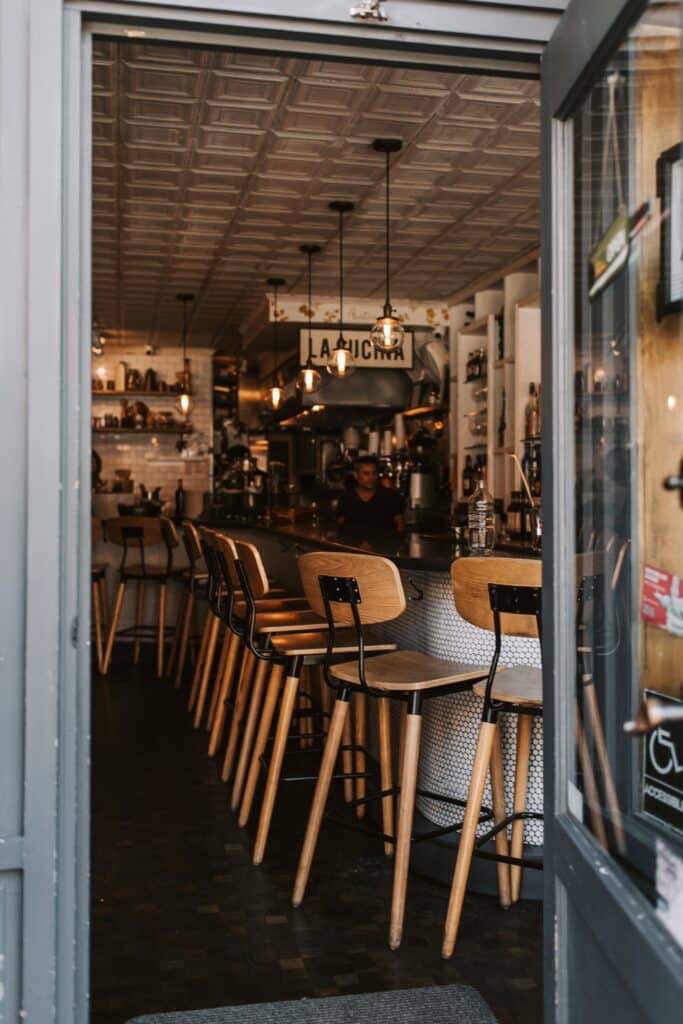 11 Alternatives to putting a car seat on a high chair
If you bring a car seat into the restaurant, there are plenty of ways to avoid putting it on the high chair.
Request a booth
If you are seated at a booth, slide the car seat in.  If it is too tight, you can try adjusting the table to make room.
You can try to move the booth back from the table behind you too, and if someone is sitting there, kindly ask if they can help.  If this doesn't work, the next best thing would be to ask for a bigger booth or a table with chairs.
Another way would be to lay a blanket out on the booth and lay the baby down flat.
This would only be recommended if the baby is not mobile or a roller.
For some unknown reason, hosts often pretend they can't see a baby with a party waiting to be seated and try to stick families in the middle of the dining room with zero extra space.
I recommend requesting a booth the same time you check in and be prepared to wait longer for a booth.
Bring your stroller
This one can be a little tricky, but it is doable.  You can bring your stroller in with the car seat attached.
Most places will allow it.  However, restaurants do have the right to refuse if they feel it goes against the fire safety code or is in the way of foot traffic.
If you are going to a smaller restaurant or somewhere fancy, it is courteous not to bring one. On the flip side, this is often a great option for patio dining.
Wear a baby carrier
If your baby is smaller and likes to be carried, you can try having a baby carrier or wrap.  The baby is safely secured to you or whoever is carrying them.
This is great when you anticipate your little one will sleep through dinner. It leaves your hands free to eat and takes some strain from your lower back.
Put it on the table
If you have a table against a wall and there's space, you can rest the carrier on the table.
Only try this one if the table is sheltered by the wall.
Use an extra chair
You can ask for an extra chair to be placed at your table so you can put the car seat on it.  Make sure the chair is big enough.  It is also a good idea to ask for a table that is not in the middle of the restaurant.
Note that with this option there will still be no way to secure the car seat to the chair. Although the chair is likely more stable than a high chair, it's still not a completely safe solution.
Hold the baby
Holding the baby is always a good option–if you don't want to eat.
Ideally, you can take turns with others eating and passing the baby around.
Ask the restaurant for a sling
Many restaurants now have specially designed slings to support infant carriers.
It is a sling held up by two bars and holds the car seat in place.  It is stable and secure for your baby.
Use the high chair as a seat.
If your child is at least 6 months old and can support themselves pretty well, you can try the high chair.
Make sure to wipe it down and make sure the straps are securely fastened.  You can add a blanket or cushion around the baby for extra support.
Also, there is a cover you can use that is more sanitary and stabilizing.  It is normally made to cover baby seats in grocery carts but can be used for high chairs.
Another option is to bring in your own high chair.  There are folding ones that make for easy transportation and storage and one like this is super cute and affordable! These can even be used outdoors when camping or at the park.
Bring your Bumbo
You might be familiar with these already because they are pretty common seats for babies just learning to sit up.
Some newer models of the Bumbo seat can be strapped onto a regular chair to be used at the table as a booster seat so you'll get the best of both worlds. This particular model will strap securely to a chair.
Bring or ask for a booster seat.
If your baby can consistently sit up without falling over (around 9 to 12 months old), they can go into a booster seat.
These can be strapped onto a regular chair and you can strap the baby in.  However, it is recommended to wait until the baby is closer to 2 years old to use a booster seat because they can fall out more easily.
If your child is old enough to ride in the car with a booster seat then it is also possible to just bring it inside the restaurant and use it in the booth or chair seat if they are still a little short for the table!
Bring a hook-on high chair
These chairs can easily be attached to the end of a restaurant table.  Again, the baby must be at least 6 months old.  Make sure the clips securely attach to the table.
Place the baby in.  Use the 3-point harness and strap the baby in properly.
Some of these hook-on high chairs are pretty slick and they also make fantastic high chair alternatives, even at the house! The Iglesina has been our go-to for years.
Conclusion
Going out to eat with your baby should be an enjoyable experience.
Don't be afraid to ask the restaurant what options they have–if they have enough parents making requests, more restaurants will provide proper, safe seating for babies.