What babies wear to daycare matters! Just like you choose your clothes for comfort and function, so should you select your baby's daycare attire.
Your baby's daycare outfit should be comfortable, practical, and easy for caregivers to take off and put back on as necessary. All babies should be dressed in weather-appropriate clothing; for infants that typically means a layer in addition to what an adult might wear in the same situation. Ask the daycare if they have an official dress code.
Keep reading for suggestions on what your baby should wear to daycare each season.
How to dress a baby for daycare
You've done your research and have chosen the best daycare for your baby, but the time comes and you're feeling a little lost. Trust me, I've been there!
Your daycare provider should give you a list of what to pack for your baby. Some daycares prefer you to pack weekly and you can leave the bag with them if your baby goes there every day. Again, you should talk to your daycare provider about their protocols and preferences.
The first thing you should do is talk to your daycare provider and ask for input on what your baby should wear. Different daycares have different rules and some might have a dress code or a set guideline on how babies should dress. The most popular choice of clothing that parents dress their babies in is footed pajamas.
Pajamas are absolutely fine and definitely take out the guesswork and the cramming in the morning to figure out what your baby should wear.
In dressing your baby for daycare, I would shy away from expensive clothes or special outfits that include magnets or tricky fasteners. Although these outfits are cute, most likely they will be soiled and get super dirty from daycare. Save these outfits for special occasions and when you're thinking about daycare clothes think comfortable, functional, and easy to clean.
Your baby should always be dressed appropriately for the weather. Your baby cannot communicate whether they feel hot or cold so it's important to ensure that they are dressed appropriately for both the overall weather and the daycare room itself. For example, if the room tends to run cold, you may want to put your little one in a bodysuit underneath the pajamas to make sure they stay warm enough.
When babies are too warm, their cheeks might be red or flushed and their bodies sweaty. If they are too cold, their hands and feet will feel cold to the touch. A good rule of thumb is that if you feel cold or hot, chances are your baby does too.
Daycare dress codes
Although you may be used to dressing your baby in cute outfits, practicality is more important than appearance at daycare, and your child's daycare might already have some guidelines available for you.
Ask your daycare provider if there is a dress code or clothing suggestions you should take into account when getting your baby ready in the morning. In some cases, there may not be an official dress code, but you may find a list of restricted clothing items.
Daycare dress codes are usually implemented for safety reasons. Your daycare might prohibit clothing that has buttons or ribbons which increases the risk of choking or strangling.
Most daycares will also require you to label your baby's clothing clearly. In case if something gets lost, the label on it will make it easier for them to pinpoint who it belongs to.
Can babies wear sleepers to daycare?
It's totally fine to send baby to daycare in pajamas! Sleepers are by far the easiest piece of clothing that you can put on your baby and it covers most, if not all, body parts that can potentially be exposed to hot or cold weather.
They're also practical for wiggly babies who can't pull down their own shirts and who benefit from buffer between their skin and play mats.
Sleepers are okay to wear to daycare especially when it's cold but be careful that the baby doesn't get too warm in it during summer months which can lead to overheating.
Sleepers usually have zippers or snaps, making it easy to take off and put back on because it's one piece. Your daycare provider will appreciate clothes that are easy to take off, especially if your baby needs frequent diaper changes. This lessens the frustration on your baby's part and the daycare provider's.
Should baby wear shoes to daycare?
Little baby shoes are adorable but if your baby is not walking yet what's the point of shoes?
If you're concerned about your baby's feet getting cold, socks are usually the way to go. Be sure to pack extra socks for your baby because it is so easy to lose one, especially if you have a wiggly baby.
If your baby is not yet walking, putting them in shoes could actually hinder their development.
If your baby in daycare is starting to walk, make sure that he wears a good grip on the bottom that won't slip. Shoes should fit snugly and not too loose. Many child care centers require that walking children have only closed-toe, closed-heel shoes, so things like flip-flops or sandals wouldn't be allowed.
What do babies wear to daycare in the summer?
You may be tempted to put your baby in shorts and cute tank tops during the summer, but the fabric is actually more important than the cut when dressing them for daycare.
One layer of clothing should be sufficient for summer and opt for breathable fabrics. For this time of the year, baby clothes made out of natural fibers like organic cotton, hemp or bamboo are generally liked because it is cooler on your baby's skin and promotes better air circulation compared to other fabrics.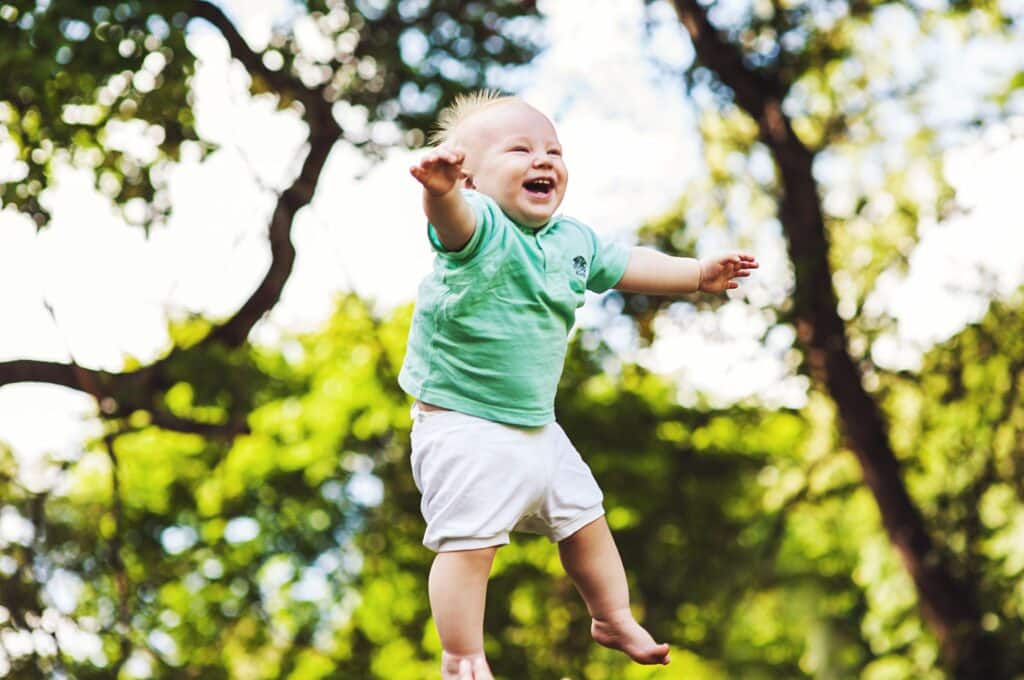 Here are some of our favorite onesies made out of natural fibers:
Image
Title
Price
Prime
Buy

Top

Touched by Nature Unisex Baby Organic Cotton Bodysuits

Prime

Eligible

Buy Now

Top

KYTE BABY Short Sleeve Unisex Baby Bodysuits

Prime

Eligible

Buy Now
Product prices and availability are accurate as of the date/time indicated and are subject to change. Any price and availability information displayed on [relevant Amazon Site(s), as applicable] at the time of purchase will apply to the purchase of this product.
Prices pulled from the Amazon Product Advertising API on:
During summer, babies and kids are most likely spending more time outdoors so trust me when I say, the clothes WILL get super dirty. Make sure the clothes that they're wearing can easily be washed.
Even if it's warm, your baby should still be covered to avoid excessive sun exposure especially if the daycare program includes outside play. A hat will protect your baby's head from heat exposure. I personally love this Durio Baby Sun Hat, it has a UPF of 50+ sun protection and a wide enough brim to protect baby's eyes.
What do babies wear to daycare in the winter?
Depending on where you live, your baby's winter clothes may vary from an extra layer and a coat to a full winter outfit.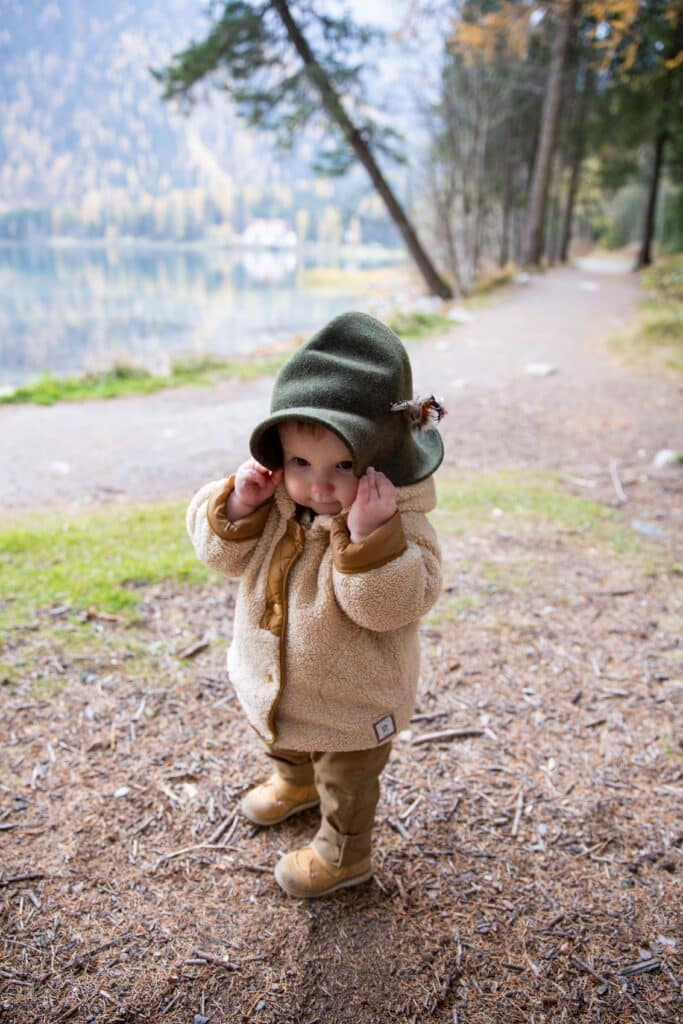 Your baby will need to be dressed in enough layers to help him keep warm. The good thing about layers is that you can pile them on when it's super cold outside and you can peel them off when you get inside or warm enough. The layers trap heat which will keep your baby warm longer.
A good base layer is usually a cotton onesie and then you can add on a shirt, pants, jacket, or even a snowsuit if it's really cold outside.
Don't forget hats, mittens, and socks. All of these extra accessories can be easily removed once your baby is inside the daycare facility so they don't overheat inside.
What do babies wear to daycare in the spring?
Spring is always a little tricky because days can start off cold and then warm up throughout the day. The best way you can combat this temperature change is through layers.
Using a short-sleeved onesie as your base layer, you can add pants and another long-sleeved shirt or jacket on top. Adding jackets, hats, and socks is also ideal as these items can easily be removed when it gets warm.
Some babies hate hats and they try to take them off the second you put them on. If this is the case, opt for a jacket with a hoodie that can easily be placed on the baby's head. Spring also brings rain showers, make sure that your baby has a waterproof jacket.
Here are a couple of our favorite hooded jackets:
Image
Title
Price
Prime
Buy
Arshiner Girl Baby Kid Waterproof Hooded Coat

Prime

Eligible

Buy Now
Hiheart Boys Girls Waterproof Hooded Jackets

Prime

Eligible

Buy Now
Product prices and availability are accurate as of the date/time indicated and are subject to change. Any price and availability information displayed on [relevant Amazon Site(s), as applicable] at the time of purchase will apply to the purchase of this product.
Prices pulled from the Amazon Product Advertising API on:
What do babies wear to daycare in the fall?
The fall season is characterized by cold weather, although not as cold as winter, temperatures can easily drop throughout the day.
Layering clothing is important because when your baby is outside it can protect him from the cold and the layers can be removed once he moves indoors where the temperature is controlled.
We love sherpa jackets in the fall because it does a great job of keeping baby warm. These jackets are thicker, soft, and cozy which will definitely help keep your baby toasty and comfortable.
Other daycare dress tips
Making sure your little one is appropriately attired is an important part of making their care experience comfortable. Here are some of my favorite tips:
Your daycare bag for baby should include an entire extra set of clothes for daycare. Accidents can (and will!) happen
Don't send your baby to daycare in special outfits unless you're ok with them getting lost or destroyed.
How to save money on baby clothes for daycare
Once your baby is in daycare, you'll notice you need a lot more clothes, especially if you leave coats, shoes, and sets of clothes at the facility as a backup. All of this can add up, but you can take a few steps to save yourself some money.
Buy clothes during the off-season
Try to buy your kids' clothes at the end of the season or during the off-season for the following year. When you snag items on clearance, you can produce a whole new wardrobe at a fraction of the cost of normal.
Unfortunately, this can be challenging if your baby isn't steady on the growth curve. You could end up with a bunch of seasonally inappropriate clothing. That's why my next tip is even better.
Shop secondhand
Secondhand is the way to go for baby and children's clothes. They're often lightly worn because kids grow out of them so quickly, and children's clothes going to landfills is a massive environmental problem.
Digging through thrift store bins isn't for everyone, I know. Instead, try children's resell shops in your area. Common ones are Once Upon a Child and Kid-to-Kid.
Secondhand and consignment shops are great options because the stores' buyers select merchandise in good condition and then organize it by gender, size, and style. You can still have an easy shopping experience.
If you don't have a shop near you, check whether there is a pop-up swap meet like Just Between Friends coming to your area.