From preemie or receiving styles to ones big enough for toddler beds, your little one will go through a variety of blankets. Whether you are planning to make or buy a baby blanket, you should be aware of what size and type of blanket is appropriate both for the age of the child and its intended use.
Keep reading to learn the sizes and materials of the common types of baby blankets, from preemie, receiving, and swaddle blankets all the way up to crib and stroller blankets, plus a couple of recommendations for great patterns if you're going to try your hand at making one!
Common baby blanket sizes by type
First, let me share a story about a friend.
Before the birth of her first child, her sister announced that she planned on crocheting a baby blanket to match the nursery. Before her death, their mother would crochet a blanket every winter. Claiming the work in progress kept her lap warm, she would gift the blanket upon completion, then start a new one the following year. Her sister intended to keep the spirit of the gift going for the first grandchild. At the time, the only information she needed to provide was the color scheme for the nursery, but she was shocked to find out the amount of research needed and choices that needed to be made before even putting needle to yarn.
Here is a picture of one of those blankets!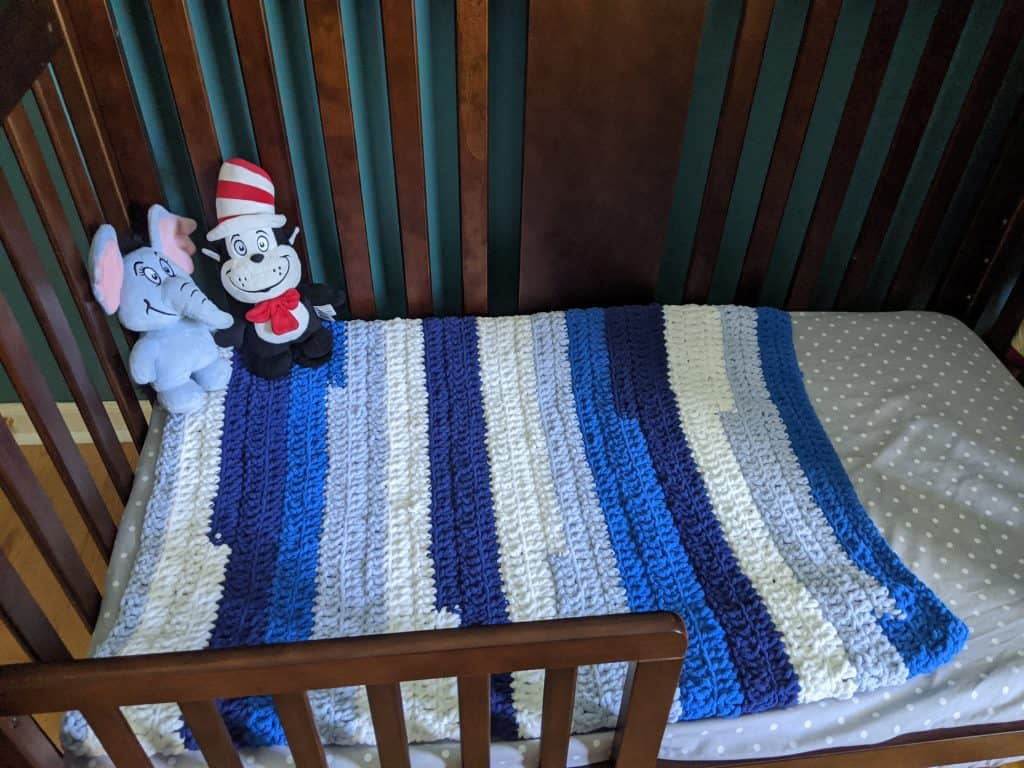 However you find you baby's blanket it will likely end up having a special memory in your heart!
When choosing a baby blanket (or pattern, if you are making the blanket), the first thing you need to consider is the purpose of the blanket. Will it be used to swaddle a newborn? Will it decorate the crib, or be used on a toddler bed once the child is older? Or will it someday be the comfort that he takes everywhere, like Charlie Brown's friend Linus' iconic blue security blanket?
Once you know the purpose of the blanket, and with it the intended age of use, you will be able to choose a blanket or pattern based on the standard dimension and materials. I have compiled the most common types in the chart below, but be sure to review the specific sections for general tips, potential safety concerns, and a couple of great resources if you are planning to make the blanket yourself.
Standard sizes of baby blankets by age, use, size, material, and style
| Age/Use | Size | Material/Size | Other |
| --- | --- | --- | --- |
| Preemie | 18" x 18" to 30" x 30" | Cotton, flannel, or satin | Avoid lace or large loops |
| Receiving (birth-2 months) | 18" x 18" to 40" x 40" | Flannel or minky material | Should stand up to heavy use |
| Swaddle (2-5 months) | 40" x 40" to 48" x 48" | Muslin or flannel | Stop using when baby is able to roll over |
| Crib (1-2 years) | 30" x 40" to 45" x 60" | Quilted cotton or plush | Do not use in crib before baby is one year old |
| Lovey | 12" x 12" to 18" x 18" | Flannel, knit, or minky fabric | Should be very durable and able to be washed regularly |
| Stroller | 14" x 32" to 22" x 30" | Muslin, flannel, knit, or minky fabric | Some options have strap slits |
| Toddler | 42" x 48" to 40" x 60" | Quilted cotton, flannel, knit, or plush | Should stand up to heavy or long-term use |
Preemie blanket
Preemie blankets (sometimes called NICU blankets) are designed to safely hold even the smallest baby without snagging on any tubes or wires that may be connected to him. This blanket is as much about comfort as it is warmth, and should be very soft to the touch.
Since it is not uncommon for preemies to spend much of their first days and weeks away from their parents, many new moms and dads will hold the blanket so that it starts to smell like them before asking that their new baby be wrapped in it. That way the new baby can start to associate the feeling of comfort with the smell of his parents, and also to help bring the comfort he feels with his parents into the sterile incubator.
Sizes
Preemie blankets tend to be fairly small considering they can be used for babies as small as just one pound, but they do need to be large enough to wrap safely around both the baby and any medical attachments. Because of this, preemie blankets tend to range from just 18 by 18 inches up to 30 x 30 inches.
Materials and style
We all know that newborns and babies have very sensitive skin, but did you know that a preemie's skin may not even be done developing? Before 34 weeks, skin may actually be so thin you can actually see through it, making preemies appear red. Fabric or yarn that feels soft and smooth to a calloused adult hand may actually be too rough for such sensitive skin.
When choosing a preemie blanket or pattern and material, make sure you are using the softest, smoothest option possible. Cotton or satin fabric and cotton yarn are popular options; wool is not recommended because of possible allergies or sensitivities. If you are knitting or crocheting, you must use a very tight weave that does not allow any space for wires, tubes, or tiny fingers to push through.
Where to buy one
Comfort Silkie is a popular brand of preemie blanket that is satin on one side and flannel on the other. They come in a variety of colors and can be customized with either the baby's name or initials. You can check them out here.
LittlestLuvBug on Etsy specializes in creating custom isolette covers and, unlike many customized blankets, she only needs about a week to get the order ready. While not a standard preemie blanket, it can be used as a carseat blanket or a nursing cover as your child grows.
How to make it at home
Knots of Love, a non-profit that provides handmade knitted and crocheted preemie blankets for NICU babies, has several patterns available on their website. If you use one, consider making a donation to the cause as well (or making an extra blanket for donation!).
Receiving blankets
If you have ever seen a newborn baby wrapped in a white flannel hospital blanket with pink and blue stripes, you know what a receiving blanket is – it's the blanket the baby is first received by the parents in. Despite this iconic design being the most recognizable version of a receiving blanket, they are available in a wide range of sizes, fabrics, and designs.
Sizes
Receiving blankets sizes can range from 18 by 18 inches all the way to 40 by 40 inches. They can be used to swaddle small babies, but babies tend to outgrow even the largest swaddling blanket within the first few months.
Unlike other sizes of baby blankets, receiving blankets tend to be very versatile and useful after they have outgrown their primary use. Personally, I always kept a receiving blanket in the diaper bag just in case.
Materials and style
Receiving blankets tend to be made of a very thin, soft flannel that cleans easily and can stand up to regular washing.
Homemade blankets tend to be not quite so universally functional, but they are very comforting and cuddly. In her video (linked below), Jenny Doan recommends a minky cuddle fabric or flannel.
Where to buy one
Carter's makes very popular, extremely durable receiving blankets that comes in a fun range of colors and designs.
How to make it at home
Jenny Doan from the Missouri Star Quilt Company has received more than one million views in the last four years for her video tutorial Self Binding Baby Blanket. I don't even own a sewing machine, but her instructions are so clear and accessible than I could delude myself into believing I could make one of these!
Swaddle blankets
Swaddle blankets are available in three basic varieties: basic, winged, and not-really-a-blanket swaddlers.
A basic swaddle blanket can be very similar, but a bit larger, than a receiving blanket. A popular update of a swaddling blanket is a swaddler, which is shaped and sized to securely hold your baby while giving the overtired parent the ease of flaps and hook and loop closures. Although it is less readily available now, the bridge between the two is a blanket shaped with wings that make it easier to wrap the baby without creating bulk around the feet and legs.
Once your baby starts to roll over, usually around 4-5 months, it is time to stop swaddling him as it is now possible for him to roll over and not be able to roll back or push himself up, posing a suffocation hazard.
Sizes
Typical swaddle blankets are 40 by 40 inches to 48 by 48 inches, which tends to be large enough to securely swaddle most five month old babies.
Materials and style
Although swaddle blankets can be simply larger versions of receiving blankets, they are more often made of muslin than flannel. Muslin tends to be warmer and more snuggly than flannel while also being absorbent so it is an ideal fabric for swaddling babies in cooler months.
Where to buy one
The Hudson Baby muslin swaddle blankets are 100% cotton, available in a great range of designs, and, at 46 by 46 inches, are nice and large.
How to make it at home
Shelly of the sewing and quilting blog Coral and Co. posted a clear and helpful tutorial for a fairly basic cotton knit swaddle blanket.
If you are a more adventurous and advanced crafter, you might want to try out the homemade version of a swaddler: the crocheted cocoon.
Crib blankets
For the first year of his life, your baby's crib blanket will be more decorative than functional. When he starts sleeping in this crib, the mattress should be bare except for the crib sheet to avoid any potential suffocation risks.
If you purchased a full bedding set rather than individual crib sheets, you probably already have a crib blanket or quilt.
Sizes
The size of a crib blanket can vary pretty dramatically, from 30 by 40 inches to 45 by 60 inches, but your best option is to find the one that fits well inside your baby's crib.
Materials and style
Many commercial crib blankets are quilted to provide thickness and comfort, and are typically cotton fabric. Others may be knit or even a plush material. At this age, baby blankets tend to become more and more like small (cuter) versions of adult blankets.
Where to buy one
The Burt's Bee's cable knit baby blanket is a fun change from the standard quilted design that adds an interesting texture your baby will love.
How to make it at home
A crib blanket is a great place to show off your crochet skills and make a blanket that will be loved for years to come. There are loads of designs online, but I'm a big fan of the look of The Make and Do Crew's colorful twist on the standard gender neutral yellows and grays.
Lovey blankets
A lovey blanket is a small, soft blanket that your toddler can carry around for comfort and security as he starts to brave the world without you. They often also include an animal head in the center so that the draped blanket is its body.
Sizes
A lovey blanket must be small enough for your toddler or small child to carry easily and not present either a trip or choking hazard, typically 12 by 12 inches up to 18 by 18 inches.
Materials and style
Lovey blankets should be very soft, but also sturdy and able to stand up to regular washings and the general abuse of a small child's affection. Although many children will become attached to a particular receiving blanket, most modern loveys are made of a soft, minky material.
Where to buy one
The Jellycat Security Blanket is velvety soft and comes in a fun range of animals. Instead of the standard animal head on a blanket, Jellycat's animals are holding the blanket themselves, allowing your child to easily hold the animal itself.
How to make it at home
If you are a skilled knitter, In the Loop Knitting provides an amazing array of free patterns from comparatively simple knotted bunnies to complex multi-color elephants.
Stroller blankets
A stroller blanket is exactly what it sounds like: the blanket you use to keep your baby warm in the stroller. While you can buy a blanket specifically for this use, many small crib blankets or even a warm swaddle blanket can be used.
Sizes
A stroller blanket should be big enough to tuck securely around your child, but not so big that it will slip off and become entangled in the stroller wheels or drag the ground. Depending on the size of your child, a stroller blanket may range from 14 by 32 inches to 22 by 30 inches.
Materials and style
A stroller blanket should be comfortable and soft to the touch. Depending on the temperature, you may need to have a couple of options to keep your child warm without overheating. A stroller blanket can be made from muslin, flannel, knit, or even minky fabric.
Where to buy one
This Jay and Ava muslin blanket has four layers to help keep your child warm and comfortable when you're out. (While you're at it, pick up a set of clips to keep your child from throwing the blanket off.)
How to make it at home
Meredith of the blog Please and Thank You, Ma'am posted an overview of how to create a stroller blanket that can be buckled into the stroller with your child. Although it is not a detailed tutorial, it's a good start that could allow you to figure it out.
Toddler blankets
A toddler blanket is very similar to a crib blanket, although it can be larger. If your crib converts into a toddler bed, you may not need both.However, your toddler's developing interests may mean his nursery pattern is no longer appropriate and it is time for a fun upgrade..
Sizes
Toddler blankets should fit the toddler bed. Unlike with a crib mattress, there may be the sort of overhang you typically see on a larger bed. The typical size for a toddler blanket is 42 by 48 inches to 40 by 60 inches.
Materials and style
A toddler blanket is similar to a standard comforter or blanket, but smaller, brighter, and cuter. Cotton quilting, knit fabric, and plush are popular fabrics. Weighted versions can be very comforting for small children.
Where to buy one
By the time he is ready to move into a toddler bed, your child has probably developed pretty firm opinions on his interests. If he's in the ever-popular dinosaur phase, check out this 40 by 50 inch MB Collections sherpa blanket. Not into dinosaurs? They also have sharks and a really cute owl option.
How to make it at home
If you're ready for an advanced craft project, this video from Quilting Daily will guide you in making a quilted flannel toddler blanket.
Baby blanket safety recommendations
Your baby should never sleep with anything in the crib with him until he is at least a year old to avoid the risk of suffocation. According to the American Academy of Pediatrics (AAP), blankets, pillows, crib bumpers, and stuffed toys can pose a risk for babies, but should be safe for healthy children who are at least one year old. Babies should be dressed warmly in snug-fitting clothes when they are sleeping, but no blanket is necessary as overheating can increase the risk of SIDS.
Once your baby is over a year old, he should be safe to sleep with his lovey or under a blanket; however, he should not start to use a pillow until he is at least one and a half.